Crema Half Caff Low Caffeine Coffee
Crema Half Caff 250 g Coffee Beans
Price
Stock status:
In stock
Dispatched within:
1-2 workdays
Variations
Low caffeine coffee
50 % Ethiopia Sidamo washed coffee beans
50 % decaffeinated coffee beans from Colombia
Decaffeinated with organic CO2 method
A darker medium roast
Low acidity
A Pleasant & Smooth Low-Caff Coffee
We created the low caffeine Crema Half Caff coffee for those who wish to cut down on the daily caffeine intake, but aren't ready to go decaf all the way.
As the Half Caff name implies, this is a coffee with only half the caffeine as in usual coffee blends, without compromising the taste. We blended 50 % Colombian single-origin decaf coffee and 50 % Ethiopian Sidamo and created a pleasantly smooth and balanced low-caff coffee, enjoyable both black or with milk.
The Half Caff is roasted a bit darker than a medium roast so that the sugars in the coffee beans have started to caramellize and give the coffee aromas of dark syrup and maple syrup as well as the sweetness and spicyness of dark chocolate.
The coffee is medium bodied with low acidity and in the long aftertaste you can find the same kind of bitterness found in high quality cocoa.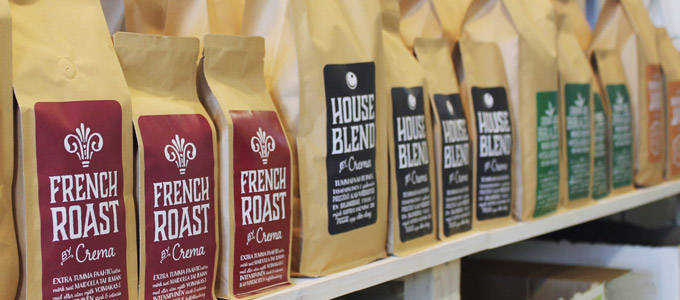 Crema's Own Coffees
Our own coffees are high-quality alternatives for those who value a good cup of coffee. For more than a decade we have listened to our customers' wishes and thoughts about how good coffee should taste.
Based on our experience with our customers, we have developed our own tasty coffee selection.
Crema's coffee is roasted by hand in Porvoo, always in small batches to ensure the best quality.
Taste profile
Smooth and balanced taste with syrup-like sweetness and a slight spicyness. Medium body with low acidity. Aftertaste of caramelised sugar and cocoa bitterness.
Body
Sweetness
Acidity
Bitterness
Brand Crema
Product number

10770
Low caffeine filter/drip coffee
Whole coffee beans or choose grinding
Weight: 250 g
Similar coffees
---
Our customers also bought