Crema Jamaica Blue Mountain 100 g
Price
Stock status:
In stock
Dispatched within:
1-2 workdays
Jamaica Blue Mountain Single Origin coffee
Farm: Wallenford Estate, Jamaica
Bean variety: Arabica Typica
Processing: Washed, sun dried
Altitude: 1500 m
Medium roast
Soft, balanced, sweet, chocolaty
The Crema Jamaica Blue Mountain coffee comes from the region's most prestigious Wallenford Estate coffee farm, which produces high quality Blue Mountain coffee. The coffee beans are a 100 % washed Arabica Typica variety that has been roasted to a medium roast to bring out the optimal flavors.
One of the most coveted and acclaimed coffees in the coffee world grows in the Blue Mountains of Jamaica. Jamaica Blue Mountain coffee is one of the most expensive coffee beans in the world due to its quality and rarity, but the coffee is also praised for its clean, balanced and sweet taste. Jamaica Blue Mountain coffee is velvety, nutty and has the sweetness of milk chocolate. The soft acidity is in perfect balance with the sweet chocolate and even creamy aromas. There is hardly any bitterness in the coffee beans, and the Jamaica Blue Mountain coffee is full-bodied, sweet and very pleasant.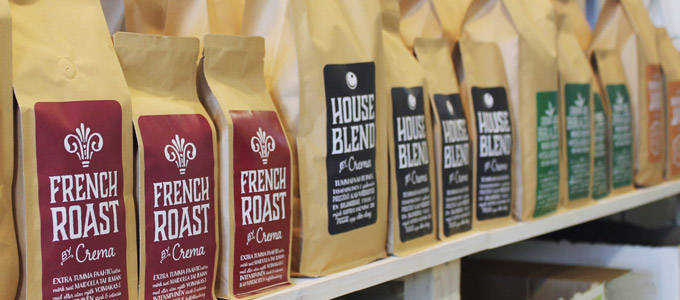 Crema's Own Coffees
Our own coffees are high-quality alternatives for those who value a good cup of coffee. For more than a decade we have listened to our customers' wishes and thoughts about how good coffee should taste.
Based on our experience with our customers, we have developed our own tasty coffee selection.
Crema's coffee is roasted by hand in Porvoo, always in small batches to ensure the best quality.
Brand Crema
Product number

10768
Whole coffee beans
Weight: 100 g
---
Our customers also bought