How to make Chemex coffee
The Chemex coffeemaker is an elegant, one-piece, hourglass shaped vessel made of high quality, heat resistant glass. The traditional model comes with a polished wood collar and leather tie. The collar serves as an insulated handle around the middle of the coffeemaker. The charming Chemex coffeemaker is included in the collection of the Museum of Modern Art in New York and was also selected by the Illinois Institute of Technology as one of the 100 best designed products of modern times.
The Chemex coffeemaker, together with Chemex-Bonded Coffee Filter, makes perfect coffee. Clear, pure, flavorful and without bitterness or sediment every time. The coffee only comes in contact with the scientifically designed filter and non-porous glass. With the Chemex method, you can make coffee as strong as you like without bitterness.
This is how you make Chemex coffee:
Select your favorite whole bean coffee and grind it to medium coarse ground.
Open a Chemex Coffee Filter into a cone shape so that one side of the cone has three layers, and place it into the top of the brewer. The thick (three-layer) portion should cover the pouring spout.
Fully saturate the filter and warm the vessel with hot water. Discard this water through the pour spout.
Measure the coffee amount, depending on how much coffee you want to brew. For every 100 g of water, use approx. 6-7 grams of ground coffee.
Once you have brought the appropriate amount of water to a boil, remove it from the heat and wait for 30 seconds and the temperature will be perfect. Pour a small amount of water over the coffee grounds to wet them, and wait for about 30 seconds for them to "bloom", releasing the most desirable coffee elements from the grounds.
After the grounds bloom, slowly pour the brewing water over the grounds while keeping the water level well below the top of the coffee maker. Slowly pour the remaining water over the grounds, using a circular or back-and-forth motion as you pour to ensure an even soaking of the grounds.
When you have brewed the desired amount of coffee, just lift the filter out of the brewer and discard.
Enjoy a perfect cup of coffee!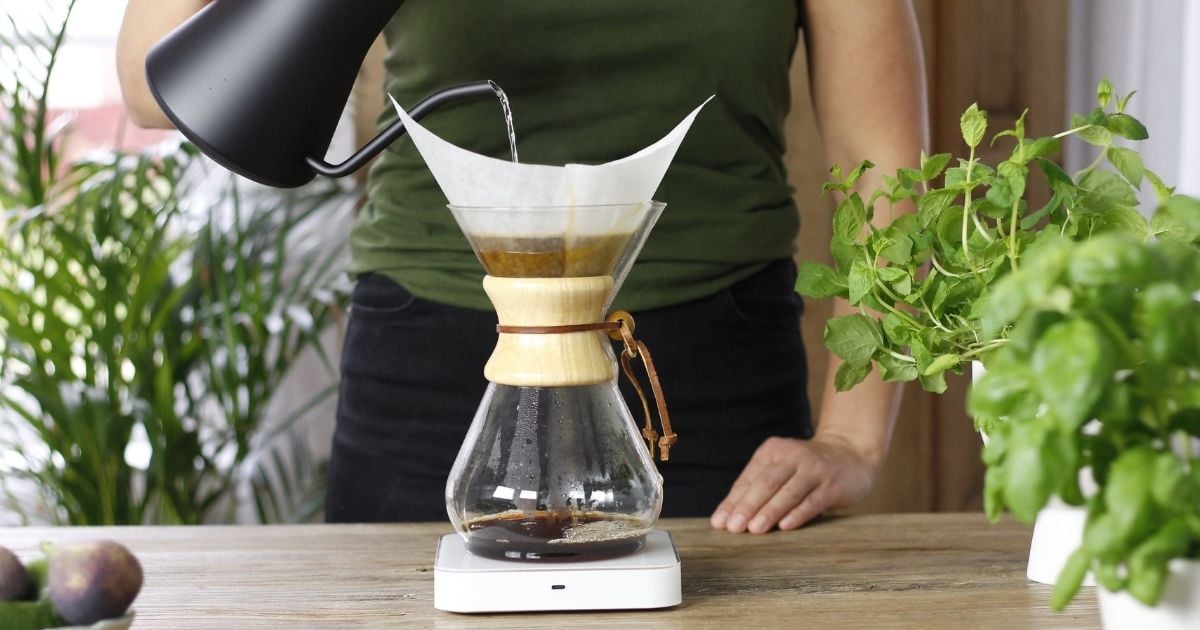 Chemex coffemakers
Check out these products too
And try one of these coffees
Brew Guides