Bubble Tea
What is Bubble Tea?
Bubble Tea is a tea based beverage originating from Taiwan in the 1980's, that has become known and popular over time, and is now consumed worldwide. The drink has a number of nicknames but is most commonly referred to as Bubble Tea, Pearl Milk Tea, Black Pearl Tea, and Boba. The name Bubble Tea comes from the look of the gelatinous shiny Tapioca-pearls that are characteristic for Bubble Tea drinks.
What are the bubbles/pearls made of? Are they edible?
The speciality of the Bubble Tea beverage is the combination of tea and the Boba-pearls that are seen in the glass. The soft and chewy pearls are made of Tapioca starch and are fully edible. Alternatively, a wide range of fruit juice infused pearls, containing sugar and starch, are also available and used for more flavour combinations. The Boba-pearls are vegan and gluten free.
What kind of tea do you use for the drink?
The choice of tea base for the Bubble Tea beverage depends on your preferred tea type. Most commonly the Bubble Tea contains black- green-, or oolong tea.
Do you put milk in Bubble Tea? What kind of milk?
You can make Bubble Tea either containing milk or as a clear beverage without milk. The most common varieties of milk and plant based milks are suitable for making Bubble Tea or Pearl Milk Tea. The most popularly used milks are regular dairy milk, oat milk, almond milk, soy milk and coconut milk. Some also use powdered milk or creamers. If you want to make the Bubble Tea into an indulgent dessert you can add ice cream.
What kind of sweetener is used in Bubble Tea drinks?
Bubble Tea is usually a sweet beverage and you can use any form of sweetener that dissolves in the drink, for instance sugar, brown sugar, coconut sugar or honey. Bubble Tea can also be sweetened with sugar free alternatives such as Stevia. Different flavoured syrups are now a popular way of adding sweetness and exciting aroma to the Bubble Tea.
Is Bubble Tea enjoyed cold or hot?
Bubble Tea can be made both as a hot and frothy drink and as a cold refreshing beverage with ice. By varying the recipes and ingredients the Bubble Tea can be enjoyed as a warming delicacy during cold times, for example by topping the drink with whipped cream and warm spices. During hot summer days the Bubble Tea serves as a refreshing fruity and cooling drink by adding fresh fruit and ice.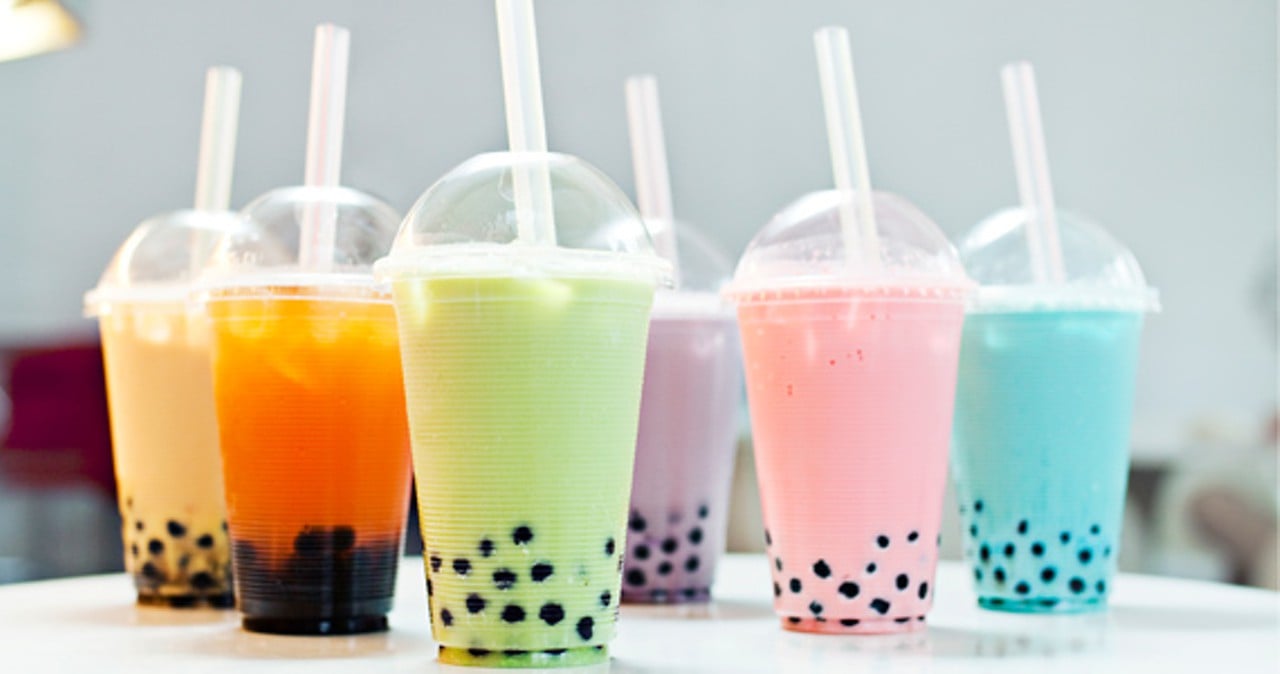 Boba-pearls for Bubble Tea
Recommended teas for your Bubble Tea
Other products for making Bubble Tea