Golden Tumeric Latte a.k.a Golden Milk
Golden Turmeric Latte, also known as "Golden Milk," is a warm and soothing beverage with a rich history in Ayurvedic medicine. This vibrant and aromatic drink is not only delicious but also offers a range of potential health benefits. The star ingredient, turmeric, is renowned for its anti-inflammatory and antioxidant properties. Paired with warming spices, creamy milk, and a touch of sweetness, this Golden Turmeric Latte is the perfect pick-me-up for any time of day.
Easy Turmeric Latte:
1 cup of milk of your choice
1/2 teaspoon of ground turmeric
2 cl of spicy flavor syrup, for example Monin Gingerbread, Pumpkin Spice, Winter Spice, Chai, or Cinnamon.
Heat the milk and add turmeric powder. Whisk to frothy and pour into a glass. Add the flavored syrup to the glass. If you wish, you can add espresso if you want the drink to be more coffee-like. Enjoy the warming yellow drink!
Syrups that go well in your Golden Latte
This is how you make a traditional Golden Turmeric Latte
Ingredients:
1 cup of milk (of animal or vegetable origin, such as almond, coconut or soy milk)
1/2 teaspoon of ground turmeric
1/4 teaspoon ground cinnamon
1/4 teaspoon of ground ginger
A pinch of black pepper (increases the absorption of turmeric)
1 teaspoon of honey or maple syrup (adjust according to your taste)
1/2 teaspoon coconut oil (optional)
A pinch of ground nutmeg or a cinnamon stick for decoration (optional)
Instructions:
Prepare the spice mixture: Combine ground turmeric, ground cinnamon, ground ginger and a pinch of black pepper in a small bowl. Make sure the spices mix evenly.
Heat the milk: Heat the milk over low or medium heat in a small saucepan. Be careful not to boil the milk as you want it to be hot but not boiling.
Whisk the spice mixture into the milk: Add the spice mixture to the milk and whisk until the milk takes on a vivid golden color and the spices mix well with the liquid.
Add sweetener and, if desired, coconut oil. Add your desired sweetener, e.g. honey or maple syrup, and if desired, also coconut oil for extra creaminess. Adjust the sweetness according to your taste.
Let the drink bubble for about 5 minutes so that the flavors blend together. Keep the heat low to avoid curdling the milk.
Strain and serve: Use a fine strainer to remove any remaining lumps of spice when you pour the drink into your cup. This step is optional, but it ensures a smoother texture of the drink.
Decorate and enjoy! If you want, you can sprinkle a little ground nutmeg on top or add a cinnamon stick to decorate the drink.
Tips:
Customize your latte by using your choice of milk and sweetener to suit your taste. You can adjust the level of spices to your preference; increase the turmeric for a bolder flavor or add more sweetness for a milder taste. If you're in a hurry, you can make a quick version of this latte by mixing the spices directly into hot milk without simmering. Golden Turmeric Latte is a delightful, comforting drink perfect for cold evenings or as a morning ritual. Whether you're enjoying it for its potential health benefits or simply for the warm, cozy feeling it provides, this recipe is a fantastic addition to your beverage repertoire.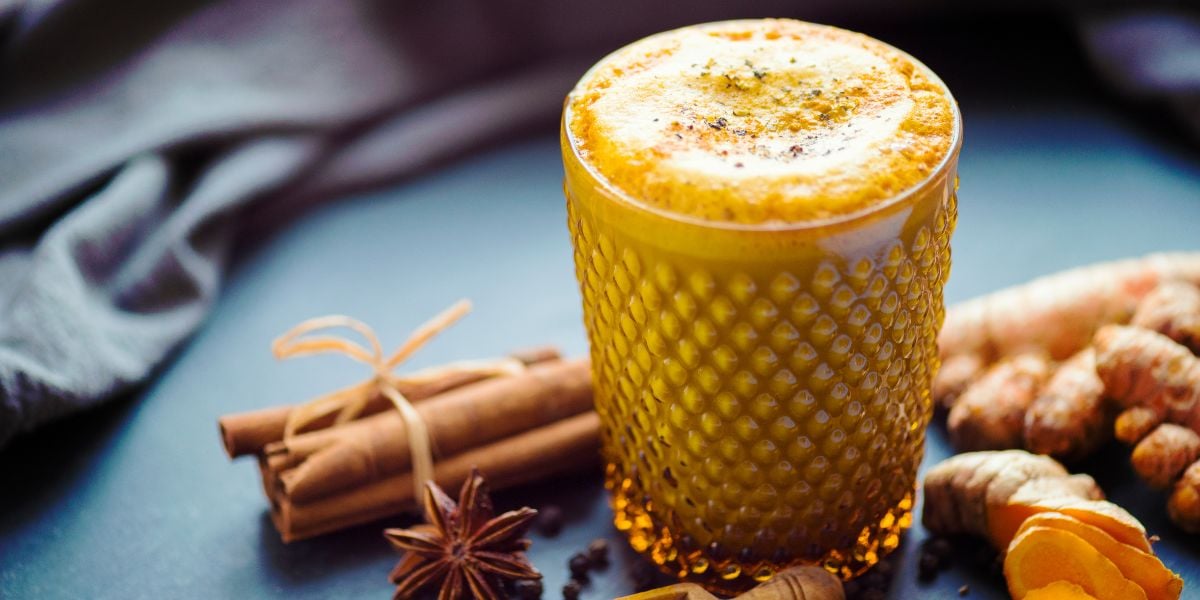 Recommended
For Milk Frothing