Pumpkin Spice Latte - a sweet and spicy milk coffee
The Pumpkin Spice Latte is an aromatic milk coffee beverage that was inspired by the traditional pumpkin pie that is eaten in America around Thanksgiving.
Pumpkin spice is a spice blend based on cinnamon, nutmeg and cloves, but ground ginger, cardamom, black pepper, tumeric and vanilla can be added.
A Pumpkin Spice Latte can easily be made using flavoured syrup for the spice, or you can make the pumpkin puree from scratch that is later added to the coffee beverage.
Pumpkin Spice Latte with flavoured syrup
1,5 dl milk
1 espresso
1 cinnamon stick
whipped cream
Pour flavoured syrup in a glass or cup. Steam milk until frothy and pour over Pumpkin Spice flavouring. Pour coffee over the milk, decorate with whipped cream, a cinnamon stick and serve!
Flavoured syrups and Pumpkin Spice products
Pumpkin puree
You'll need the following:
approx. 300 gr peeled and diced pumpkin (makes around1,5 dl puree)
1 dl condensed milk
0,5 tsp ground cinnamon
0,5 tsp ground ginger
a pinch of ground cardamom
a pinch of cloves
a pinch of nutmeg
Peel and dice the pumpkin. Cook or steam the pumpkin until it is soft and make it into puree using a mixer or blender. Add the condensed milk and spices to the puree. If you want a sweeter puree add sugar or honey or sweetener of your choice.
Pumpkin Spice Latte with pumpkin puree
1-2 Tbsp pumpkin puree
approx. 1 dl strong coffee or a double shot of espresso
approx. 2 dl steamed milk
Put a couple of tablespoons of pumpkin puree in a glass. Add coffee or espresso. Pour over the steamed and frothy milk and garnish with whipped cream, cocoa powder or a pinch of cinnamon.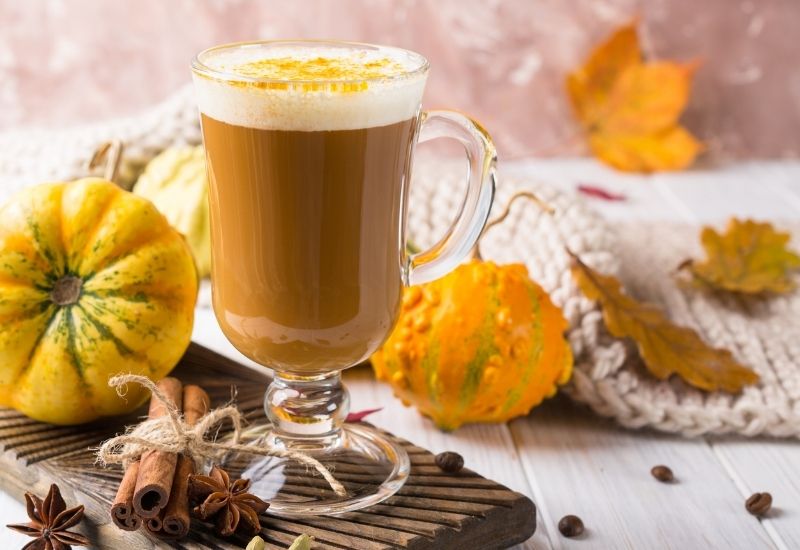 Coffee
You might also be interested in these