Caramel Macchiato
Traditional cappuccinos and caffe lattes are great, but sometimes making them with a little twist is fun and delicious. With different flavoured syrups, spice mixes, garnishes and sauces, coffee drinks are taken to new dimensions. Large coffee chains are constantly inventing new flavour combinations, which often become internationally established coffee drinks on cafe menus.
Caramel is a flavour that has established itself as a great companion to milk coffees. Vanilla is another one that goes perfectly with milk coffees. Caramel Macchiato was born from this combination, which consists specifically of milk, espresso, vanilla syrup and caramel sauce. The coffee drink can be made as a warm or cold drink.
The name macchiato refers to the way the drink is made. Macchiato means "coloured" or "stained", referring to the fact that espresso stains the milk. In a macchiato, milk is poured into a glass or cup first and then the espresso. The coffee is carefully poured through the milk foam, so that layers of color form in the glass.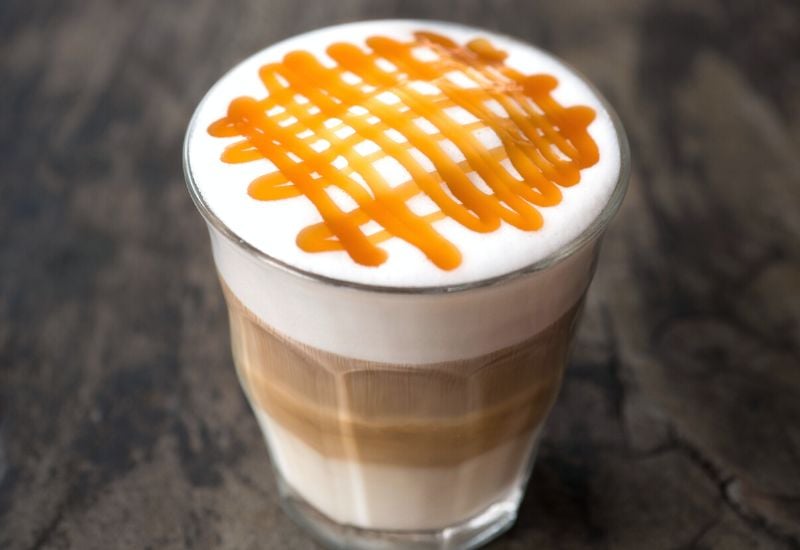 This is how you make a hot Caramel Macchiato:
You will need:
Espresso (single or double shot)
About 2 dl of milk of your choice
1 tablespoon of vanilla syrup
1 tablespoon of caramel sauce
Make an espresso. For the coffee drink, you can use a strong mocha made with a mokapot or espresso made with capsules or other espresso makers. Heat and froth the milk of your choice. Add vanilla syrup to the bottom of the glass or cup. Pour over the warm frothed milk. Finally, carefully pour the espresso through the milk foam without breaking the foam layer. Garnish the milk foam with caramel sauce and serve.
This is how you make a cold Caramel Macchiato, i.e. Iced Caramel Macchiato:
Make an espresso. You can also use a strong mocha made with a mokapot.
Add ice to a tall glass
Pour the vanilla syrup into the ice.
Add cold milk.
Pour the espresso over the milk.
You can decorate the drink with whipped cream and caramel sauce on top. If you don't want whipped cream, you can drizzle caramel sauce over the coffee.
Vanilla syrup
Caramel sauce
Milk frothing products