Iced Coffee - a refreshing cold coffee beverage
Iced Coffee tastes especially good during those warm summer days when you long for your daily coffee kick, but the mere thought of a hot coffee makes you sweat.
Iced Coffee recipe:
You can prepare Iced Coffee in many ways and with countless flavour combinations, but the main ingredients are coffee, ice cubes, and milk of your choice. Brew the coffee either hot or cold, both make a great tasting iced coffee. We recommend trying different brewing methods to find your preferences and favourite combinations. Brew the coffee for example with a regular drip coffee maker, manually by pour-over, with an Aeropress, as Cold Brew, or even with a Moka Pot or Espresso machine. Instant coffee is also a quick alternative for an easy iced coffee.
If you use hot brewed coffee try to cool it down as quickly as possible to preserve all fresh coffee aromas.
Add some ice cubes to a serving glass. You can also use ice cubes made from Cold Brew or filter coffee for intensity. Read about how to make Cold Brew ice cubes here.

Pour the preferred amount of coffee over the ice cubes.

Add sweetener, flavoured syrup, chocolate sauce or for instance a drop of liqueur or whiskey, and fill up with any type of milk.

Stir and enjoy your Iced Coffee!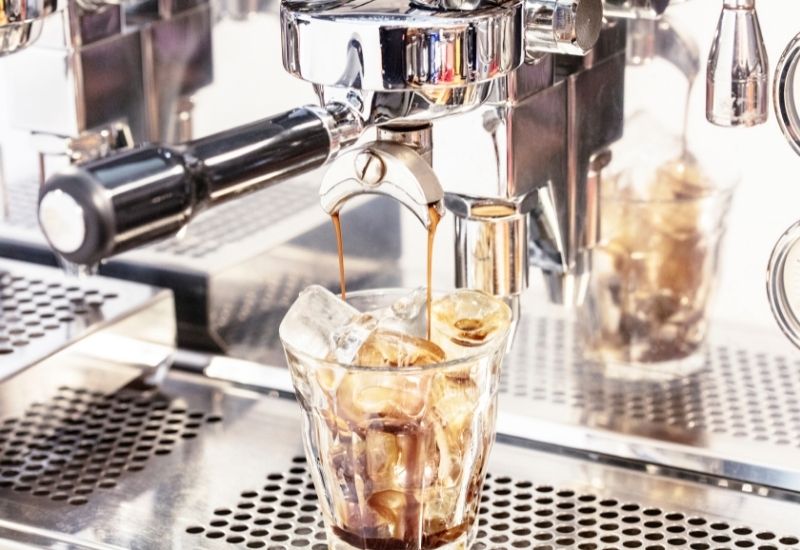 Versions of Iced Coffee:
There are as many recipes for Iced Coffee as there are creative flavour combinations available. Some common iced coffee drinks are for example Frappé, Frappuccino, Dalgona, Iced Latte, Cold Brew coffee, Boba Iced Coffee, and Vietnamese Iced Coffee. Some like to garnish their iced coffees with whipped cream. Others add a scoop of vanilla ice cream. Some enjoy spices such as cinnamon and cardamom in their coffee. Adventurous iced coffee makers might add orange or berries to their beverage.
Let your creative juices flow and invent your own version of an Iced Coffee!
Try some of these coffees in your Iced Coffee!
Sweetener and flavour for your coffee beverage
For serving